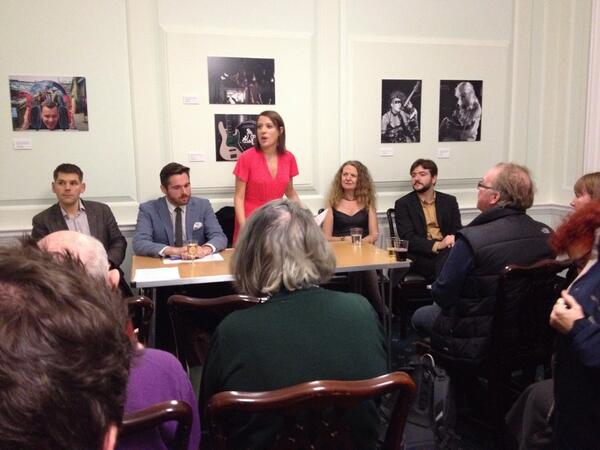 The question, 'Should Labour care about selective faith schools?' received an overwhelming yes yesterday evening, as Labour Humanists held a Fair Admissions Campaign-themed event in central London that was standing room only. The event, chaired by Labour Humanists chair Naomi Phillips, featured contributions from London Assembly Member Tom Copley, British Humanist Association Chief Executive Andrew Copson, Fabian Society General Secretary Andrew Harrop, and author and columnist Joan Smith. Separately Tom Copley and Labour Humanists have made a joint submission to the Labour Party's Your Britain website, where party members can vote in support of fair admissions.
Labour Humanists and the BHA are among many supporting groups of the Fair Admissions Campaign, with support also coming from religious groups and individuals such as Ekklesia, British Muslims for Secular Democracy, the Hindu Academy, the Unitarians and Accord Coalition Chair Rabbi Dr Jonathan Romain, and from political groups such as the Green Party, Liberal Democrat Education Association, Liberal Youth, and Socialist Educational Association.
Speaking first, Andrew Copson gave an overview of recent research published by the Campaign on the extent to which religiously selective admissions policies contribute to segregation. Mr Copson cited statistics showing that faith-based selection causes socio-economic and ethnic segregation, referring to measures such as eligibility for Free School Meals, English as an additional language and ethnicity. He deplored the policies employed by schools such as the London Oratory School, a state funded Catholic secondary which selects on the basis of parents doing flower arranging, and Twyford CofE High School, also state funded and yet prioritising parents on the basis of 'Assisting with collection/counting money', 'Tea & coffee Rota', 'Church maintenance' and 'Parish Magazine Editor'. Copson cited huge public support for a change in the law.
Joan Smith spoke more widely about her concerns about state funded faith schools – concerns which were largely outside of the scope of the Fair Admissions Campaign, but highlighted how in her view such issues are compounded by faith-based admissions policies.
Andrew Harrop movingly described how his daughter started primary school this term, but didn't get into their first choice of school: she had been at a Catholic nursery for the past two years, but was 'expelled' because the school's admissions policy prioritises Catholics (which he and his wife are not) over other Christians, those of other religions, and lastly those of no religion. His daughter was very upset about this and didn't understand, and instead has ended up at a good but more socio-economically disadvantaged school – which he didn't believe would be a problem for her but would affect other children's prospects more drastically. Harrop emphasised he is a supporter of the state funding of faith schools, citing the Churches' historical role in providing education. But he stated his opposition to discrimination in admissions, and asked the Churches whether they are comfortable presiding over 'a fraudulent and deceptive system' that people game. He implored Labour to decide to act on the issue soon.
Tom Copley pointed out that the segregation is based on the faith of parents, not the faith of the children who may decide they are of another religion or belief. He pointed out that there is no segregation of trains or hospitals on a similar basis, and described the problem as a 'huge equality issue' with people not being able to access local schools. Mr Copley particularly thought it perverse that faith schools often prioritise those of other religions over those of no religion: 'better you believe in the wrong God than no God at all.' Tom fears that ethnic segregation in schools is getting worse, highlighting research that education children together produces greater understanding.
Notes
For further comment please contact BHA Head of Public Affairs Pavan Dhaliwal on 07738 435 059 or email info@fairadmissions.org.uk.
Read Labour Humanists' Storify of the event: http://storify.com/labourhumanists/selective-faith-schools-should-labour-care
If you're a Labour Party member you can vote in support of fair admissions becoming Labour policy at http://www.yourbritain.org.uk/agenda-2015/policy-commissions/education-and-children-policy-commission/faith-schools-admissions
The Fair Admissions Campaign wants all state-funded schools in England and Wales to be open equally to all children, without regard to religion or belief. The Campaign is supported by a wide coalition of individuals and national and local organisations. We hold diverse views on whether or not the state should fund faith schools. But we all believe that faith-based discrimination in access to schools that are funded by the taxpayer is wrong in principle and a cause of religious, ethnic, and socio-economic segregation, all of which are harmful to community cohesion. It is time it stopped.
Supporters of the campaign include the Accord Coalition, the British Humanist Association, Professor Ted Cantle and the iCoCo Foundation, the Association of Teachers and Lecturers, British Muslims for Secular Democracy, the Campaign for State Education, the Centre for Studies on Inclusive Education, the Christian think tank Ekklesia, the Hindu Academy, the Green Party, the Liberal Democrat Education Association, Liberal Youth, the Local Schools Network, Richmond Inclusive Schools Campaign, the Runnymede Trust, the Socialist Educational Association, and the General Assembly of Unitarian and Free Christian Churches.