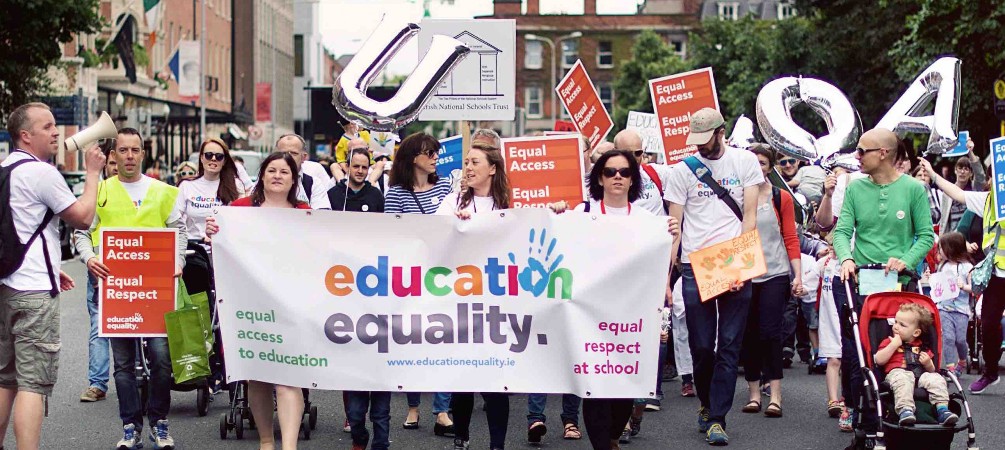 Over 600 people in Dublin have taken part in a demonstration against inaction of the Irish Government and Parliament to end religious discrimination in pupil admissions in the country's state funded school system.
The march was prompted by an announcement last month from Ireland's recently appointed Education Minister Richard Bruton that, rather than making faith school admission policies more religiously inclusive, the Government would be seeking to speed up its plans to open more multi-denominational and non-faith schools. The demonstration also followed the Irish Parliament's decision last month to delay by 12 months further consideration of a private members Bill that would moderate the extent to which faith schools can discriminate against local children where the school serves as the main local school.
The march was organised by the recently established group Education Equality, which campaigns to ensure all state funded schools in the Republic of Ireland are made open and accessible to people of all religious and non-religious beliefs. Around 95% of Irish state funded schools are faith schools, and 90% are under the patronage of the Catholic Church.
At the start of June a group of Catholic educationalists in Ireland urged that their schools reserve 10% of places for non-Catholics. Ireland and the UK are among the small minority of developed countries that permit any form of religious discrimination in the selection of pupils to state funded schools.
Fair Admissions Campaign Group Steering Group member and Chair of the Accord Coalition, Rabbi Dr Jonathan Romain, said 'Opting not to make existing schools more open and suitable to those of different beliefs, but to instead open more schools that cater to those of certain groups, is a recipe for entrenching segregation and division. This approach should be recognised as both socially irresponsible and a surrender to narrow interests.
'The recent suggestion from a group of Irish Catholic educators that their schools should admit a small proportion of non-Catholics was very modest. However, it should serve to highlight – in Ireland and elsewhere – the potential for a consensus to emerge when participants examine their shared commitment to the common good.'
Notes
Most developed countries do not permit state funded faith schools to select pupils by faith
A 2012 study by the Organisation for Economic Co-operation and Development (OECD) showed that the Republic of Ireland and UK were among the very small number of OECD member countries that permit religious selection at state schools (table 2.3 p15). Our own research has reinforced this finding.
The OECD identified Estonia and Israel as also having religiously selective state funded schools. In some Canadian provinces there are publicly funded Catholic schools that can refuse admission to non-Catholics before high school. We are also aware that in Germany a small number of private religious schools receive state funds and can religiously select. In the Netherlands private faith schools that receive state funding can loosely require that pupils and parents support the mission/vision of the school. But it is not aware of any other countries. Countries with strong religious traditions, such as Italy, Spain, Poland and the USA, do not have religious discrimination in admissions to any state-funded schools. We lists ten reasons why religious selection in pupil admissions should be opposed here.